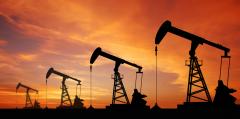 Related BNO Brent Moves Following Crimean Vote Brent Below $108 Heading Into The Weekend Related DBE Brent Steady On Unfolding Ukrainian Crisis China's Weak Data Outweighs Concern Over Ukraine, Brent Slides
Bargain hunters took Brent crude oil prices higher over night after the commodity lost almost $2 on Monday. Brent traded at $106.65 at 7:25 GMT on Tuesday as investors turned their attention from the problems in Ukraine to the global demand outlook.
After Crimean citizens voted to succeed from Ukraine and join Russia over the weekend, markets were roiled as many worried about what kind of reaction the vote would draw. However, on Monday, fears of immediate military action in the region subsided and gave investors a chance to evaluate some other factors weighing on oil prices.
Many are concerned about an over supplied market paired with weakening demand growth. CNBC reported that most analysts are expecting to see a build of more than 2 million barrels in US commercial crude inventories. Two weekly data reports, due out on Tuesday and Thursday, will likely show around a 2.8 million barrel rise in the US.
See also: FDIC Sues Big Banks For Rigging Interest Rates
Geopolitical problems kept a floor under prices as the situation in Libya continued to suppress the OPEC supplier's exports. New protests have taken Libyan oil exports down to less than 250,000 barrels per day, and some say things could get worse.
The nation is facing an increasingly unstable clash between the government and opposition groups who demand more rights and a part of the nation's income from oil production. If the tension continues to escalate, Libya could fall into a civil war. In many ways, the problem in Libya, although priced in, poses a larger threat to oil supply than the situation in Ukraine.
Posted-In: CrimeaNews Commodities Forex Global Pre-Market Outlook Markets Best of Benzinga
&copy 2014 Benzinga.com. Benzinga does not provide investment advice. All rights reserved.
Most Popular A Joint Venture: Two Marijuana Industry Leaders Plan to Produce Pharmaceutical Extractions Earnings Expectations For The Week Of March 17: FedEx, Nike, Oracle And More General Electric Take Steps To Appease Investors Following Exectives Meeting With Activist Nelson Peltz FDIC Sues Big Banks For Rigging Interest Rates Barron's Recap: Detroit Will Rise Again Keurig, Office Depot And Others Insiders Have Been Buying Related Articles (BNO + BROAD) Bargain Hunters Boost Brent Prices Euro Holds On Ahead Of Fed Meeting Brent Moves Following Crimean Vote Euro Resilient Despite Deepening Crisis In Ukraine Brent Below $108 Heading Into The Weekend Mario Draghi Changes His Tone Around the Web, We're Loving...