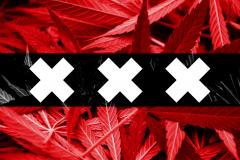 Related FULL 3 Unique Income Investments Stocks Hitting 52-Week Highs Related CANN 3 Things That Could Extinguish The 'Reefer Rally' How Would a Hypothetical Marijuana ETF Do This Year?
Advanced Cannabis Solutions (OTC: CANN) was suspended from trading Thursday morning by the Securities and Exchange Commission.
An SEC report questioned the Colorado based company, inquiring about the possibility of undisclosed affiliates and shareholders unlawfully distributing securities.
As a result, shares of CANN are suspended until April 9, 2014.
In an email to Benzinga, CANN CFO Christopher Taylor said that "the management of the company [is] as shocked as anyone," further noting that "this does not pertain to any of the restricted shares owned by the founders or officers.
"This relates to stock that has been sold that is free trading, and we have no control over these sales."
See also: 14 Cannabis Stocks To Watch In 2014
420 Investor Alan Brochstein called CANN "one of the best companies in the [cannabis] space," noting that this is most likely a third-party problem with an individual investor breaking the rules.
Brochstein also pointed out that when other cannabis companies have had trade halted (AVNE, CDFT, and PTOG), the SEC provided incredibly vague reports regarding the suspensions, while the report for CANN has very specific language.
Full Circle Capital (NASDAQ: FULL), a business development firm that has significant investments in CANN, is trading down today on the news of the suspension.
FULL has paid CANN $500,000 in warrants, which is part of a $30 million dollar senior secured convertible note purchase agreement.
In addition to the CANN news, FULL paid a monthly dividend of .067 per share on March 14, and is trading ex dividend thursday.
At the time of publication, FULL was trading down 16.71 percent.
Posted-In: 420 investor cannabis marijuana SECNews Emerging Markets Movers & Shakers Politics Legal Economics Markets General Best of Benzinga
&copy 2014 Benzinga.com. Benzinga does not provide investment advice. All rights reserved.
Most Popular UPDATE: BofA Announces $4B Buyback Plan, Raises Qtr. Dividend from $0.01 to $0.05/Share UPDATE: Facebook to Acquire Oculus VR for About $2B Advanced Cannabis Solutions Temporarily Gets CANN-ed Federal Reserve Board announces approval of capital plans of 25 bank holding companies participating in the Comprehensive Capital Analysis and Review Spotify Vs. Pandora Vs. Google Music Vs. iTunes Radio Vs. Xbox Music UPDATE: Bank of America Announces Settlements With Federal Housing Finance Agency (FHFA) and New York Attorney General Related Articles (FULL + CANN) Advanced Cannabis Solutions Temporarily Gets CANN-ed 3 Things That Could Extinguish The 'Reefer Rally' How Would a Hypothetical Marijuana ETF Do This Year? 3 Unique Income Investments Around the Web, We're Loving...