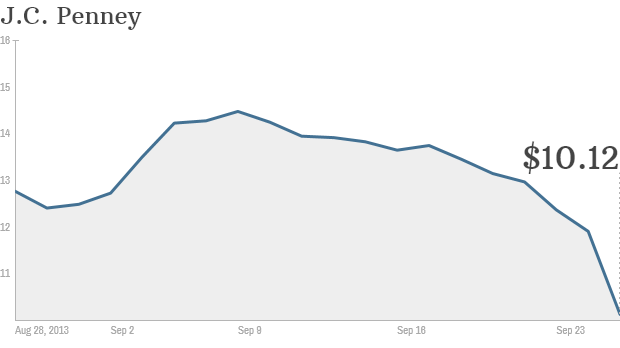 J.C. Penney stock plunges
NEW YORK (CNNMoney) J.C. Penney's stock plummeted in premarket trading Thursday, continuing its recent plunge, over concerns that the venerable retailer might be seeking to raise cash.
J.C. Penney (JCP, Fortune 500) dropped 9% in premarket trading, following a 15% plunge on Wednesday, amid reports that the clothing retailer could be seeking to raise as much as $1 billion through the sale of new stocks or bonds.
The company's shares are set to open beneath $10, a level that it hasn't reached since 2000.
Some analysts are projecting that J.C. Penney had a disappointing back-to-school shopping season, with sales continuing to take a dive through this month.
Activist investor Bill Ackman added fuel to the fire when he cut his losses last month. His hedge fund, Pershing Square Capital Management, sold its entire 18% stake of the company.
Ackman had tried to save the company by recruiting Ron Johnson, former head of Apple retailing, to lead J.C. Penney as chief executive. But Johnson got rid of company discounts, distancing its customer base and sinking sales, so the company him pushed out.
The company is now being led by interim CEO Mike Ullman, a veteran of the company.
Representatives of J.C. Penney were immediately available for comment.
CNNMoney's Maureen Farrell contributed to this story.